If you are a Rentec PRO or PM user, you have options at your fingertips for customizing a professional rental application that your prospective tenants can access online.  If you haven't had a chance to customize your on-line application yet, head to your Settings tab, and select Rental Application Defaults.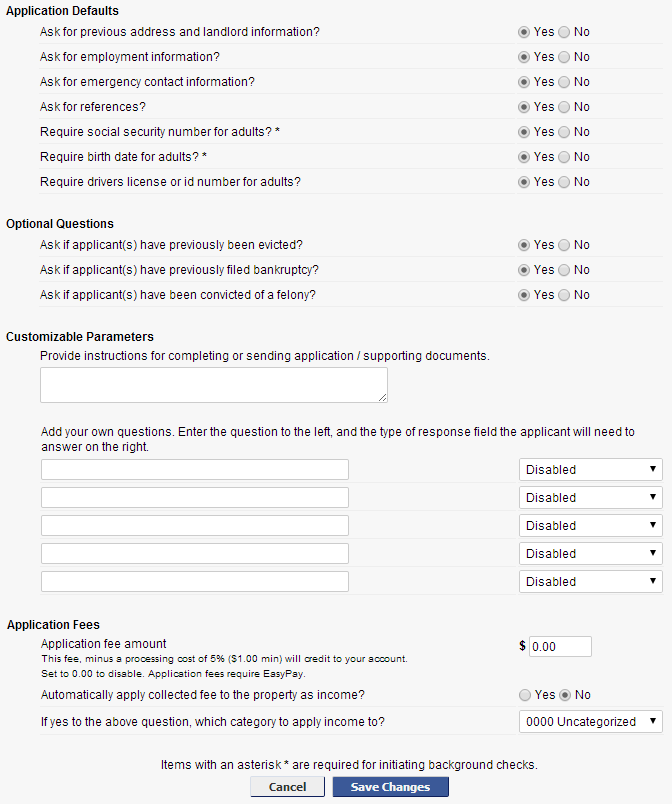 You will not be able to accept online rental application fees unless you are signed up for our online payment processing.  

If you have activated your Rentec Direct EasyPay Merchant Account, all Application Fees collected will be deposited into the bank account that you have configured on each property as the Income Account . You will be invoiced a 2.75% convenience fee by Rentec. To have the applicant cover the cost of the convenience fee, you will want to mark up the amount of the Application Fee that you charge. 

Once you have customized your online application, you'll want to read up on how your applicants can access your rental applications.
If you are looking for a generic, blank application form, we offer one you can use for printing.
Once a rental application has been submitted what happens?
You receive an email notification, and a notification appears in the Summary Screen.

A notification also shows in the Properties Tab.
Reports Tab> Misc Reports> Property Listings ... notice the blue hyper-links. In this example you may click on the "2" to view the applications that have been submitted for that property.
If you know the property that was applied for, you can also go to that property on the Properties tab, right-click on the property and select Applications from the menu. 
- - - 
How do I provide an online rental application without posting my rental listing online?
When you create a listing and post it, you can disable the syndication so that the listing only shows on your Rentec listing page (ie: rtd4.com/uXXXXX) and not on the other sites such as Zillow and Trulia. This way you can send the applicant directly to your listing page so that they can fill out the application. Your listing is still posted online, but people will only see it if you tell them where to find it.